Elopement in Paris with Chanel-chic styling
Posted on
Elopement in Paris with Chanel-chic styling
Tips and styling inspiration for your Paris elopement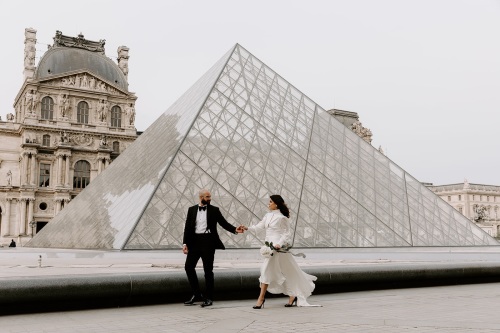 Ahhh Paris! Can you imagine a more perfect backdrop for your elopement than The City of Love herself? Swooningly-romantic, breathtakingly beautiful, and achingly stylish, an elopement in Paris is the dream. And as the home to Chanel, Givenchy, Louboutin, and Dior, you're stepping into some very big, very stylish shoes.
So as a fashion-obsessed destination wedding photographer, I saw this as an unmissable opportunity.
And decided to create my very own styled shoot based on an elopement in Paris. Because as a girl growing up, I was besotted with vintage-style fashion adverts. Those impossibly stylish Chanel ads, with a beautiful young couple running hand-in-hand through the streets of Paris. To me as a young girl, they were the pinnacle of beauty. So when I was planning my styled shoot, these adverts were to be my inspiration.
I wanted that Chanel-chic to shine through in every shot. I wanted to pay homage to the classic adverts that made me first fall in love with fashion all those years ago. And I wanted to give you all the styling inspiration and advice you could ever need for your elopement in Paris.