Elopement in Paris with Chanel-chic styling
Posted on
Elopement in Paris with Chanel-chic styling
Tips and styling inspiration for your Paris elopement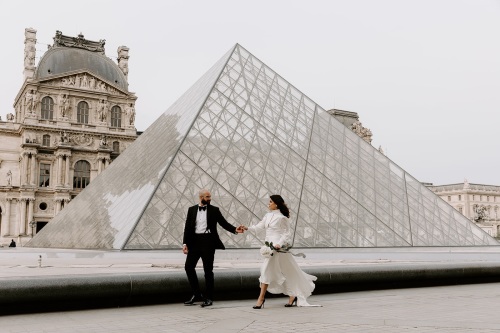 Ahhh Paris! Can you imagine a more perfect backdrop for your elopement than The City of Love herself? Swooningly-romantic, breathtakingly beautiful, and achingly stylish, an elopement in Paris is the dream. And as the home to Chanel, Givenchy, Louboutin, and Dior, you're stepping into some very big, very stylish shoes.
So as a fashion-obsessed destination wedding photographer, I saw this as an unmissable opportunity.
And decided to create my very own styled shoot based on an elopement in Paris. Because as a girl growing up, I was besotted with vintage-style fashion adverts. Those impossibly stylish Chanel ads, with a beautiful young couple running hand-in-hand through the streets of Paris. To me as a young girl, they were the pinnacle of beauty. So when I was planning my styled shoot, these adverts were to be my inspiration.
I wanted that Chanel-chic to shine through in every shot. I wanted to pay homage to the classic adverts that made me first fall in love with fashion all those years ago. And I wanted to give you all the styling inspiration and advice you could ever need for your elopement in Paris.
Begin your elopement in Paris in a luxury hotel
If you're planning a Paris elopement, a luxury hotel with a balcony is a must. Let me paint you a picture. It's the morning of your elopement in Paris. You're getting ready with your fiance, ensconced in the luxury of a stunning boutique hotel. You help him with his tie and cufflinks, he helps you into your dress. You sip champagne, you laugh, you kiss. Sunlight hits your face as you stand on the balcony in your wedding dress, the vibrant sounds of Paris carrying up from the streets below. Can you imagine a more romantic way to begin your wedding day?!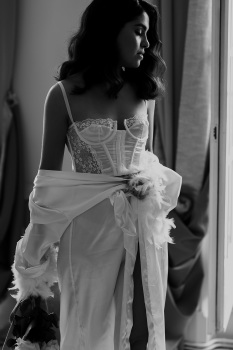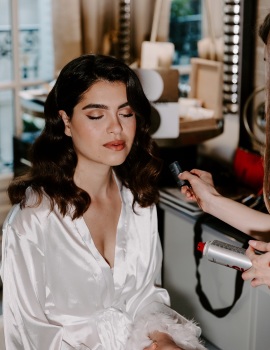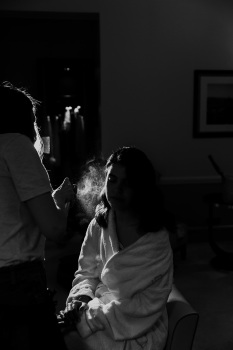 It's quite common in elopements for couples to get ready together in the morning. And it really is a wonderfully intimate way to start your day. So don't skimp on the hotel, push the boat out and go wild! Trust me, it'll be worth it. And if nothing else, the shot of you on a Parisian balcony in your wedding dress will definitely be printed and framed!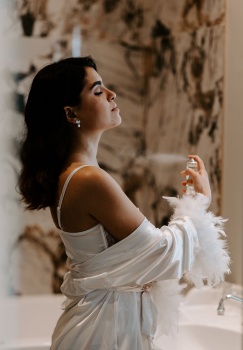 Zee and Navid got ready in the 5-star Elysia Hotel. The gorgeous styling, the jaw-dropping elegance of the room and the combination of natural light and flash gave us that unmistakably stylish Chanel-chic vibe

Chanel-chic styling inspiration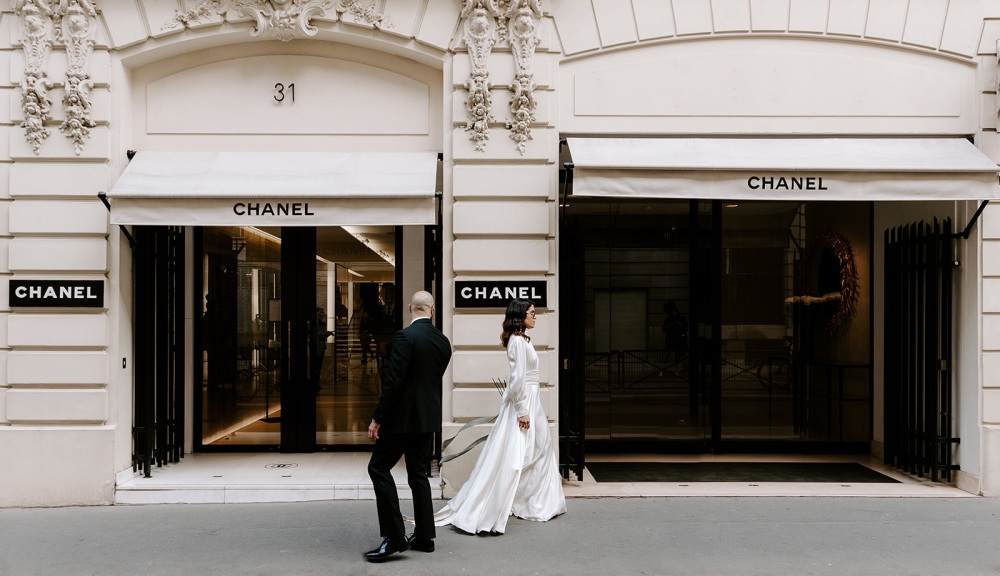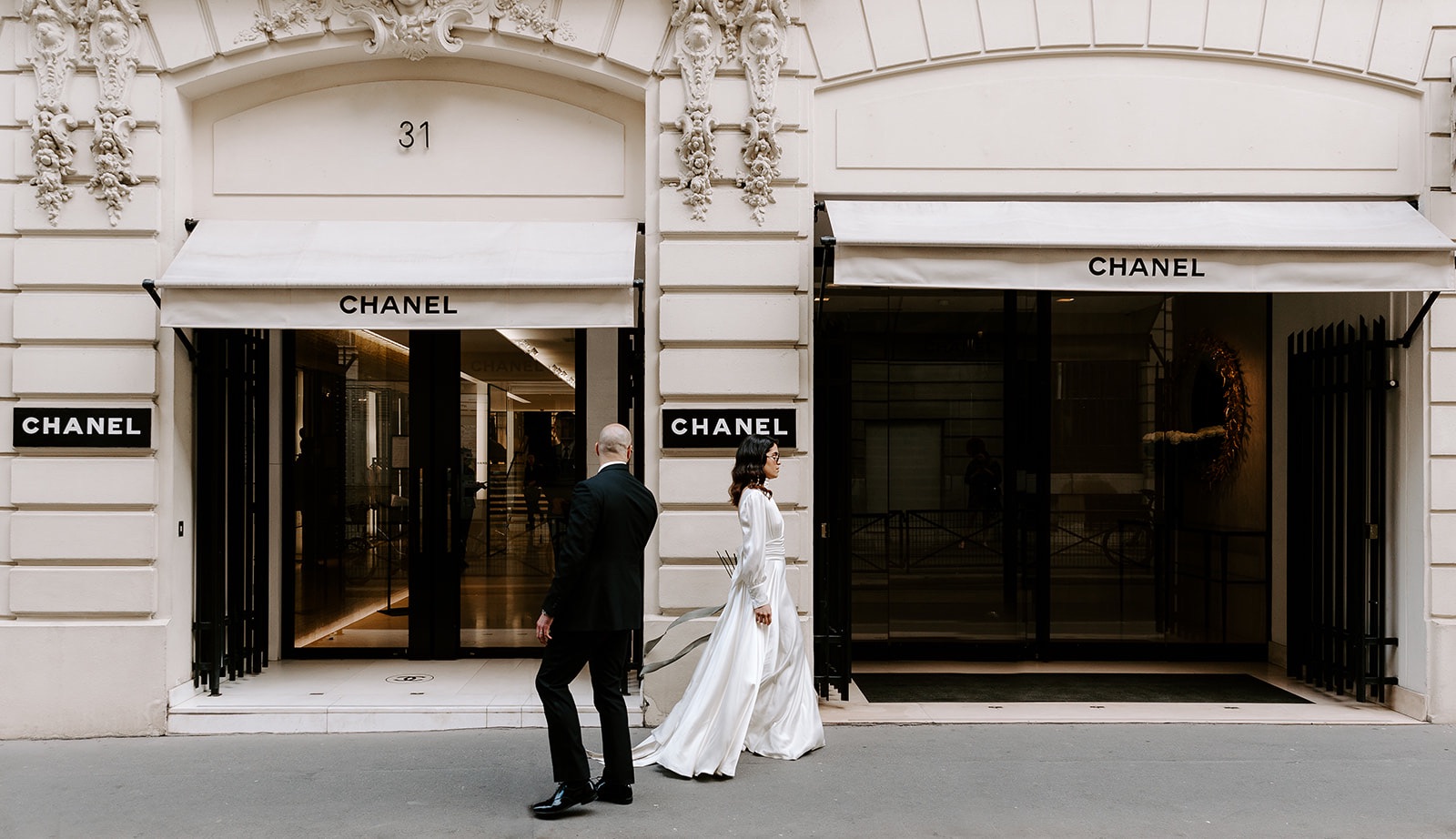 Zee wore the stunning Lilith by Zoe Rowyn Bridal, shipped to us from Ivy and White especially for the shoot. Zoe's designs are so on trend for next year, and Lilith is one of the designer's favourites. The vintage-style high neck, stylish cuffs, elegant lines and flowing silk were perfect for the Parisian elopement style. And can we just take a minute to appreciate the bow?! I love how the playfulness of the bow contrasts with the elegant style of the rest of the dress. So beautiful, fun and unique.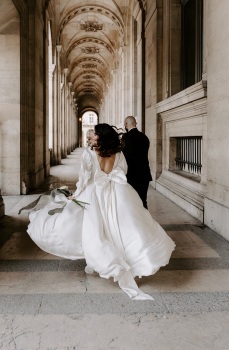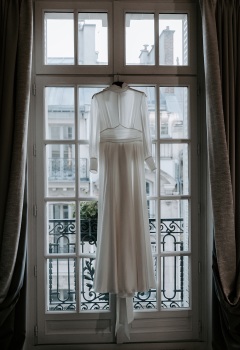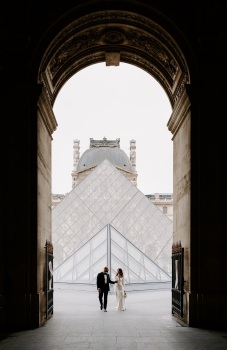 And of course, we had to complete the look with Chanel No. 5 wedding scent, a Chanel bag and a pair of Manolo Blahniks! Paired with classically beautiful earrings, elegant makeup and relaxed Hollywood waves in her hair, Zee looked like a movie star.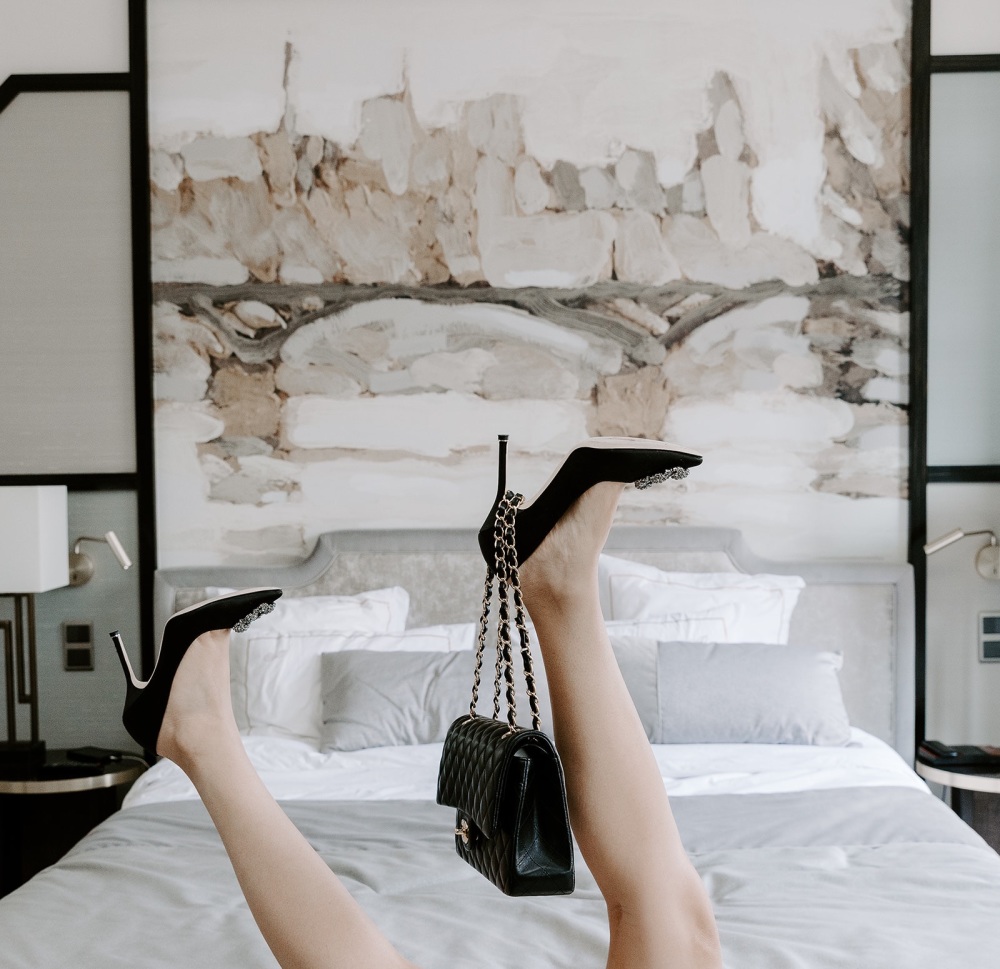 Navid's look was classically suave. Black patent leather shoes, a black suit and a black bow tie will forever be in style. As a couple, their look was timeless, elegant, and perfect for an elopement in Paris.

Where to have your Paris elopement ceremony
Zee and Navid had their elopement ceremony on the banks of the Seine. Boats bobbed gently along the softly undulating water and the iconic Eiffel Tower climbed into the sky behind them. If you're tempted by a ceremony on the banks of the River Seine, be warned they can get busy during the day. So if you want to have an intimate ceremony untroubled by tourists, I'd always recommend getting there early. And taxis are gold dust at rush hour. So if you are having an early ceremony, book your cab in advance to make sure you don't miss your own wedding!
But the good news is, if all that sounds like too much hassle (or you're just not a morning person!) Paris has so many other scenic, gorgeous places for you to say your vows.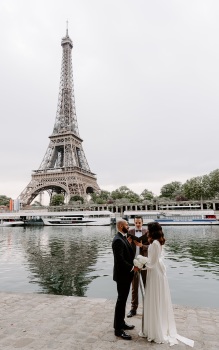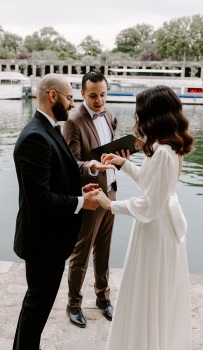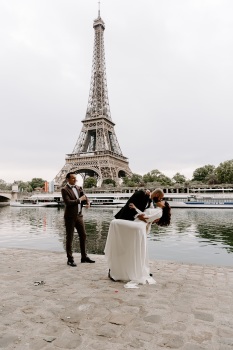 Saint Louis Island is perfect for the quieter vibe of the city, with the tranquil river banks setting the scene for you. Or there's Jardin des Tuileries, with countless stunning backdrops to be found in the endless beautiful gardens. And if you're architecture lovers, there's the Place Saint-Sulpice, with the stunning arches, a church and a fountain. Or the Palais Royal right across the street from The Louvre. Whatever your vision for your Paris elopement, there'll be somewhere that's perfect for you.
Couples portraits at the Musee du Louvre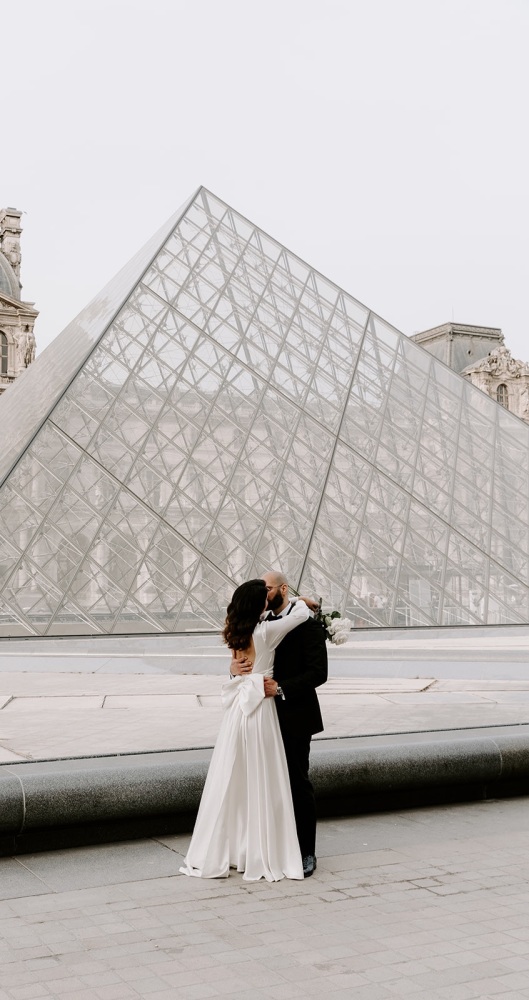 After Zee and Navid's ceremony, we headed across to the astonishingly beautiful Musee du Louvre.
Once a Royal Palace in the 16th Century, the Louvre is reminiscent of that spectacular, aristocratic philosophy where money is no object and beauty the only mistress. It's regal, palatial, majestic, and quintessentially Parisian.
And it's a wedding photographer's dream! The contrasting textures of the iconic glass pyramid and the ancient stone arches are a perfect marriage of modern chic and historic charm. The fountains, the steps, and the ornate, centuries-old stonework combine to make one of the most romantic, photogenic backdrops in the world.
We got there early so Zee and Navid had the place to themselves. And I know running through the breathtaking courtyards and arches of The Louvre together will be an experience they'll never forget.
Looking for someone to photograph your elopement in Paris?
Paris is a treasure trove of hidden gems and gorgeous undiscovered photo spots. You'll turn a corner and find an ancient, beautifully preserved fountain, its water glistening in the Parisian sun. Or turn down a street and suddenly be presented with a breathtaking view of the Eiffel Tower. It really is The City of Love, and the perfect place in Europe to elope.
And for me as an artistic, relaxed, style-obsessed wedding photographer, it's my dream destination. I love to capture those moments of connection between you as a couple. Those moments of joy and the little looks of love that happen when you're on a whirlwind adventure together. I love to capture the beautiful details of your day in a stylish, modern way. And give you timelessly beautiful photos that will hang on your walls for decades to come. And where better to do all this than in Paris?
I capture weddings and elopements all across the UK, Europe and every corner of the globe. Wherever your love story might be, I'd love to tell it. If you love my work I'd love to hear from you.Please get in touch today and let's have a chat and get to know each other.
Love,
Becky x