5 wedding timeline tips - PLUS my free planner!
Posted on
My top 5 tips for creating a wedding timeline that gives you the wedding experience you want. Plus download my free timeline planner template
Everything you need to have the most organised, relaxed, streamlined wedding day ever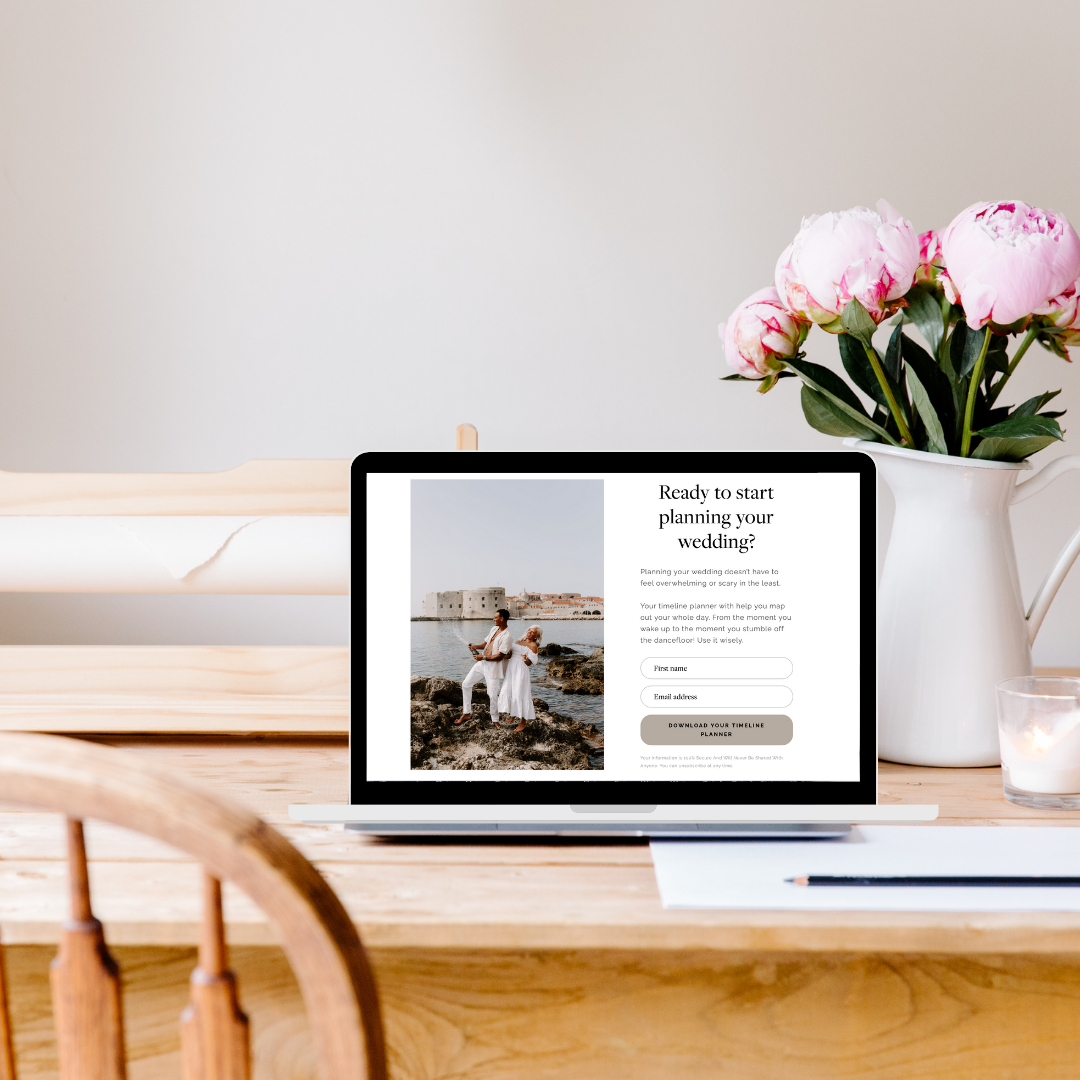 Unless you're a celebrity party planner, planning your wedding will be the biggest logistical challenge of your lives. So coming up with a wedding timeline that maps out your day and makes everything run like clockwork is…well…tricky! And it's your wedding day! So you want everything to run as smooth as hot butter on a beaver's back. But where do you even start?! Don't worry, I've got you.
I've been a wedding photographer for over four years now, and I've seen the same issues disrupt weddings time and time again. So I've put together a list of my top five tips for planning your wedding timeline to help you dodge merrily around these little potholes.
And to sweeten the deal, I've also included my free timeline planner template. So when your wedding day comes you can just relax. And enjoy every last second of your day knowing it's all planned to perfection.
Victory loves preparation. So let's get you prepared, shall we?!
1. Have your ceremony and reception in one place
If you haven't started planning yet, this is the single biggest thing you can do to give yourselves a super-simple, stress-free day. Because believe me, having everything in one place is an absolute game-changer. It's easy, hassle-free, and saves you so much time.
Because even if the venues are close to each other, there's always so much faffing around! Guests milling about, getting into cars, deciding who goes with who, sorting out sat-navs, waiting for 50 cars to park once you get there. You'll lose the best part of an hour just getting everyone from the ceremony to the reception.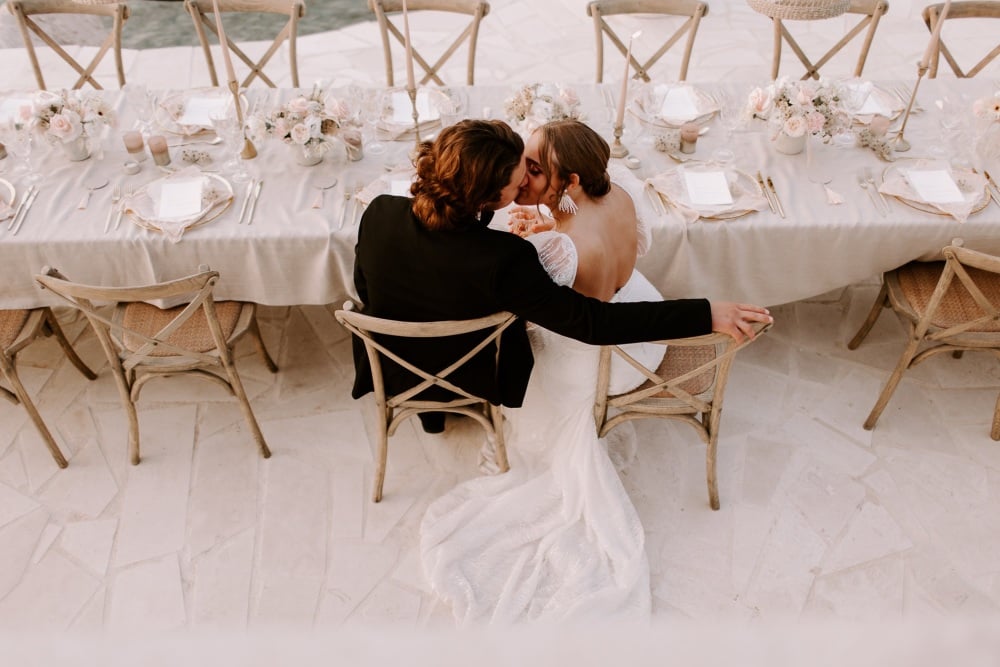 So if it's not too late, try and get a venue that allows you to have everything all in one place. And if there's bridal prep/groom prep rooms on site as well, you've hit the jackpot!
If you've already booked separate venues, or you have your heart set on a church wedding, don't panic. You can still make it work!
But just make sure the travel between venues is all planned out, you allow time for traffic, and you have backup cars just in case (classic cars have a habit of breaking down!)
A good tip is to plan a slightly longer drinks reception for when everyone arrives at the reception venue. So that if the move from the ceremony takes longer than expected, you're only eating into the drinks reception. And then whatever happens, all the other timings are still in place.
2. Be selective with group shots. And get them done ASAP!
Any photographer will tell you. Having loads of group shots will throw out your timings like you wouldn't believe! I cap group shots at ten. But if you want this part of the day to go smoothly, try to limit yourselves to five, or have them split over the day if you have the longer days.
Brutal, I know. But frankly, herding half-cut relatives into groups takes ages. And the vast majority of group shots will never make it into your album anyway. Let alone make it onto your wall.
So choose your favourite people. It sounds harsh, but ask yourself: who are these really for? how important are they, really? Will you have that group shot framed?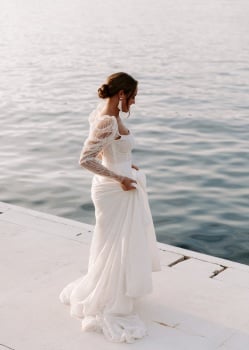 If someone's flown in from New Zealand and they're your favourite person in the world, then I'll make an absolute fuss of them and give them their own 30 minute photoshoot! But do you really want to waste valuable minutes of your wedding day getting a posed photo with your mum's friend's dad? Nah. Not when there's mingling to be done and prosecco to drink.
So be cut-throat and come up with a list of essential group shots. And then communicate this with me so I have a clear list of all the must-haves. I will send you a form to complete a month before your day so we can organise this.
If your ceremony and reception are in different places, I recommend having group shots done as soon as you come out of the ceremony. Everyone is all gathered in one place outside so they're easier to grab. They usually haven't had a drink at this point either, so they're less mischievous. But obviously this depends on the venues. If you're getting married in a tiny wedding venue with no space, but your reception is in a stately manor, then wait until you get to the reception.
3. Don't overcrowd your day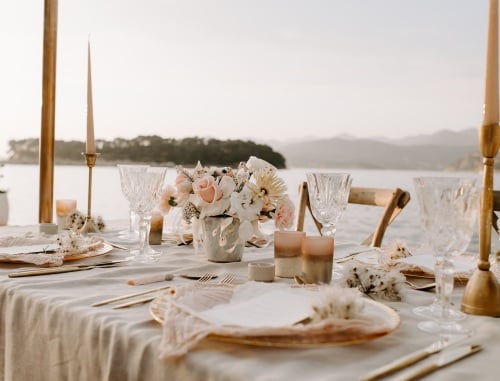 If you want a really chilled-out, care-free wedding day, my best wedding timeline advice is to give yourself extra time to do everything. And don't try to do too much.
Booking yourself in for back to back events with no downtime is a direct flight to a stressful wedding day. So give yourselves some breathing room. Things always take longer than you think, and you don't want to spend your whole day looking at the time and stressing it's not going to plan. So plan a day that allows you to breathe, enjoy yourselves and soak it all in. There's absolutely nothing wrong with having a super-chilled day!
But obviously you don't want your day to be boring, either. So definitely have some cool stuff going on. It's always a good idea to have games that the guests can play by themselves without you constantly being there. And then this frees you up to have your couple's portraits or spend some time alone together without worrying about your guests getting bored.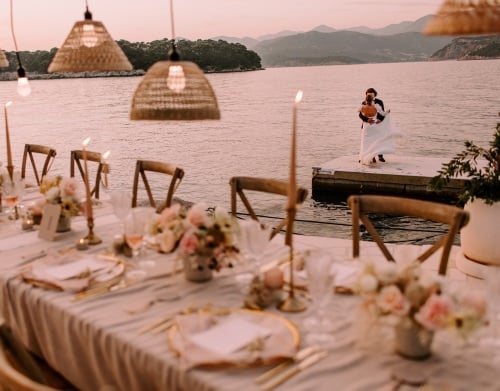 Because above all else, you should be experiencing the day together and enjoying each other's company without stressing about timings.
4. Consider booking a second shooter
Having a second shooter is an added expense, for sure. But it can make your day run a lot more smoothly. And take away that worry that something might be missed.
Because I'm surprisingly spritely, but I can't be in two places at once. So for big wedding (anything over 80 guests i'd say) venues or big wedding parties, I'd say a second shooter is a must. Or if you want to capture both bridal prep and groom prep. Or want lots of candid pictures of your guests while we have your couple session. If any of this sounds good to you, book a second photographer.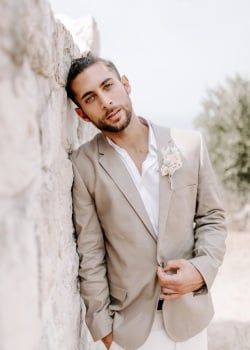 And timing-wise, it allows things to run at their own pace. Because it means you won't be pressing pause on the day while I run from place to place. For example, when I'm with bridal prep, groom prep will be happening at the same time. And I can't be in two places at once, so at some point I'll have to leave. And then you won't want anything magical or emotional to happen in the bridal party! So you'll be waiting around for me to come back, just so I don't miss anything.
Having a second shooter means things can just flow. And you can enjoy the moments, knowing you've got two professional photographers capturing things naturally as they happen as well as working the angles and levels for you.
5. Give yourself extra time for bridal prep
I've been a wedding photographer for over four years now. And trust me when I say, the last half hour of bridal prep is very often the most stressful part of the day for any bride. It's so chaotic. And that's when you can become really flustered. And of course, if you're late to the ceremony, it throws out the timings for the whole day.
So you want to slow that part down! Enjoy those precious moments with your bride tribe. Savour the calm.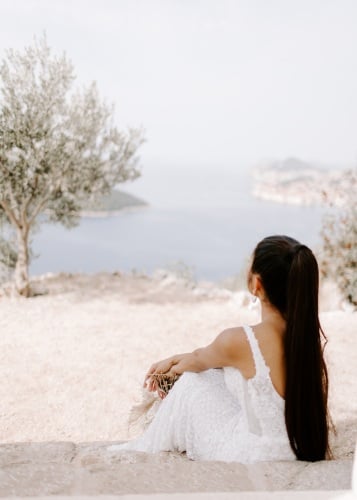 And it gives us time for so many unforgettable moments. We can get those beautiful serene shots of you getting ready, the finishing touches on your hair and makeup. Maybe we're going to open a super-romantic card from your soon-to-be husband (and then retouch your makeup again!) Maybe do a first look with the girls or with your father, or get some shots with your parents before the hubbub of the day begins. Or maybe you just want to take ten minutes to calm your nerves in a quiet room and have an extra glass of prosecco?!
However you choose to use them, these extra 15 minutes will start your whole day off right.
So get the bride ready first!!! And start getting ready much earlier than you think you need to. Getting ready 30 minutes early will give you time to breathe, slow things down, take an extra sip of that champagne and soak in the atmosphere.
My free wedding timeline planner!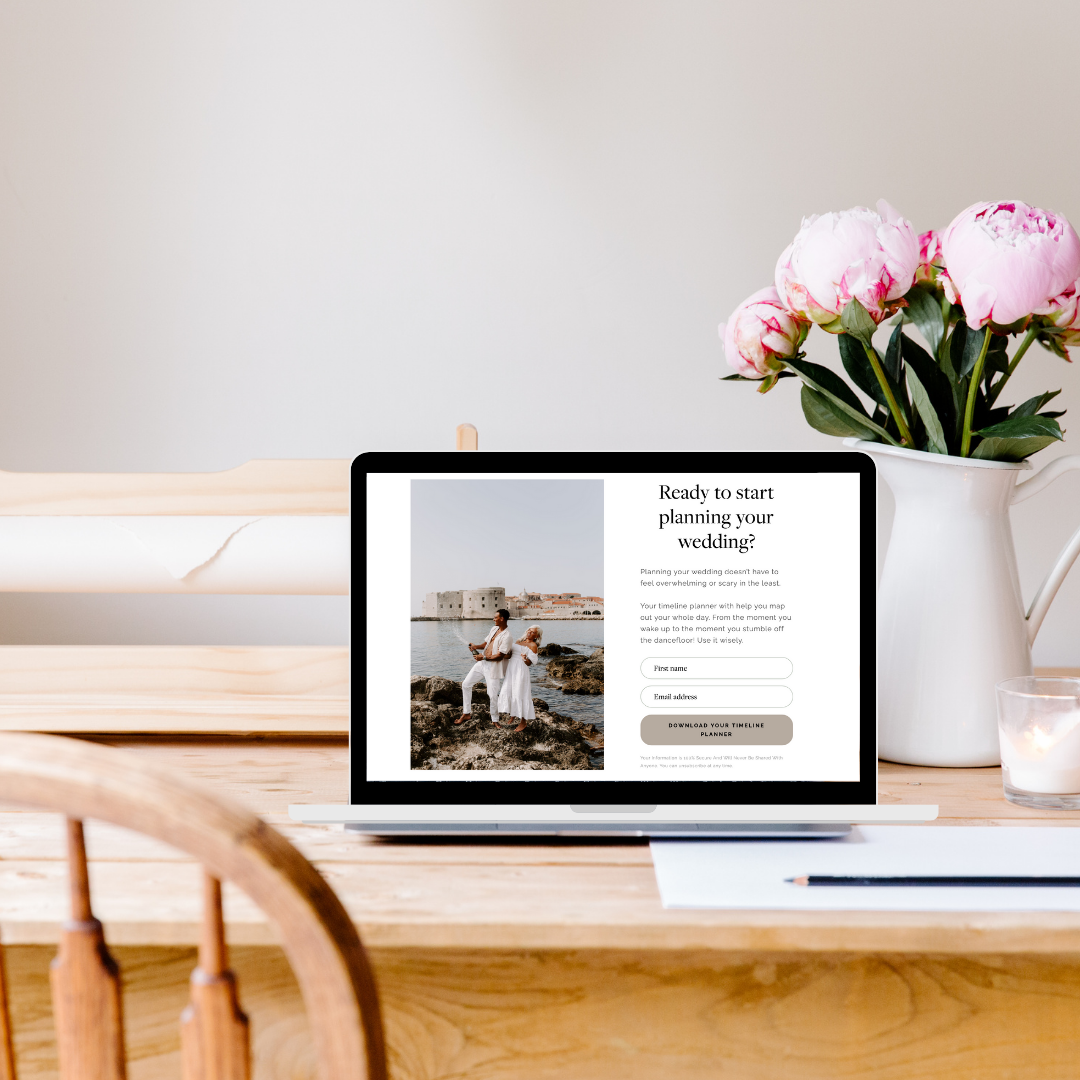 As promised, here's my free timeline planner template, helping you map out your whole day. From the moment you wake up to the moment you stumble off the dancefloor! Use it wisely.
But first, let me talk you through it and give you a few last little tips.
In the left hand column is the event/what's happening in order of when they generally happen. This'll give you an idea of all the key moments you should be planning in. There's also some notes I've highlighted in yellow for some extra guidance (e.g. allow 5 minutes per group shot).
In the right hand column is for your timings.
How to decide on your timings
If you're having trouble knowing where to start with your times, start with the times that are set in stone. So if you know your ceremony is at 2pm, work backwards from that for your bridal/groom prep timings. If your meal is at 6pm, you know you have four hours to play with in between the ceremony and the meal, for example.
And then work forward from the meal to plan in speeches, cake etc. so you know when to plan your first dance.
**Make loads of notes! If I need to set up lighting, if there are certain things I'll need to capture or make allowances for. The more information I have, the better, so tell me your life story in the notes!**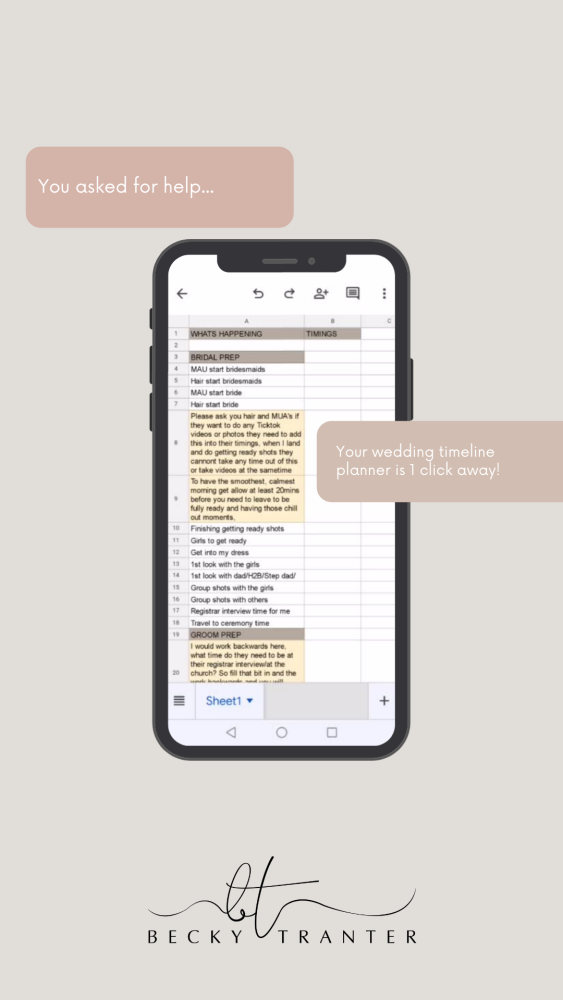 Once you have your timings mapped out, have a look through to see where you have natural gaps in your timeline. If you've got everything worked out and it's back to back events, go back through and change it. This part of the planning process is the bit where you give yourselves the wedding experience you want. So be generous with yourselves, and remember, it's your day.
Make sense? Great!
If you still haven't booked your wedding photographer and think we'd be a good fit, I'd love to hear from you. We can chat all about your wedding and get to know each other a little bit.
Please get in touch today for a free consultation.
Love,
Becky x