Can you get married yet in the UK?
Posted on
Yes you can! Read on to find out how many you can have at your wedding ceremony and if you can have a wedding reception...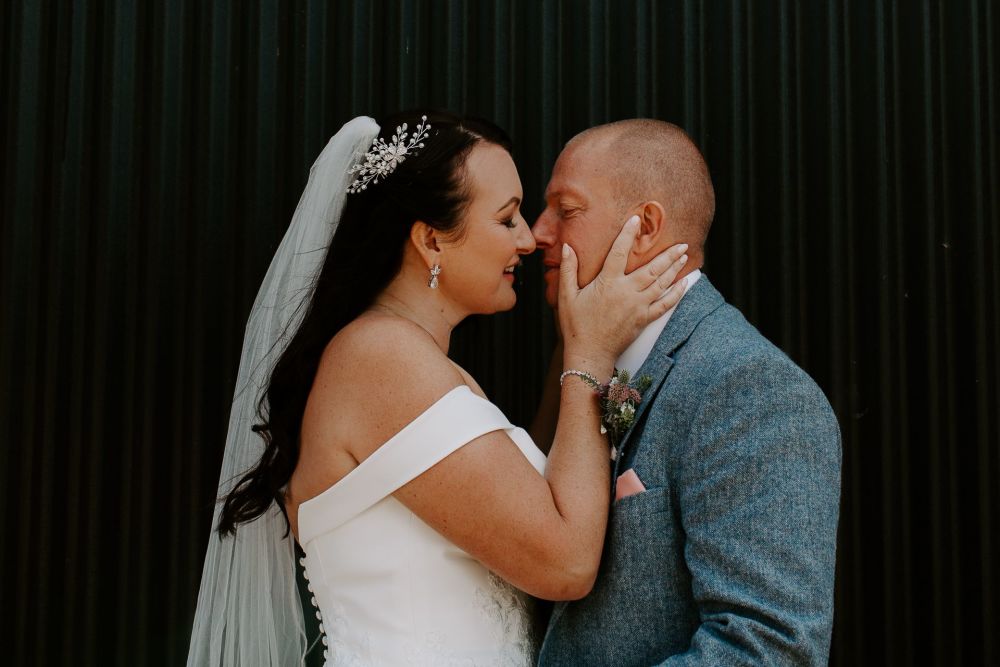 Let me start by saying I love weddings, all the emotions that are on display; the sheer romance of them and I do love my couple sessions; heading off to create some amazing memories, as you breathe in the fact you just got married!
However, I can't sit here and not tell you a Lockdown wedding felt quite different; no hugging, no congrats, no confetti and no party and I had to complete a Covid Risk Assessment!
I have had a lot of couples asking me how many people can I have at my wedding at the moment? My couple had 24 guests, themselves, 2 registrars, 1 person from the venue and me! That's it folks, that's your 30!
You need to bear in mind that due to the square footage of the ceremony room at Donington Park Farm they were able to accommodate the maximum number of 30. If you choose to go ahead you will need to check what the maximum number of guests will be after your venue cluster households together. I have heard already this number having to be reduced to 10 guests, 2 registrars, the couple and your photographer. You can find the key principles here; section 3 of the Government's guidelines for small marriages and civil partnerships.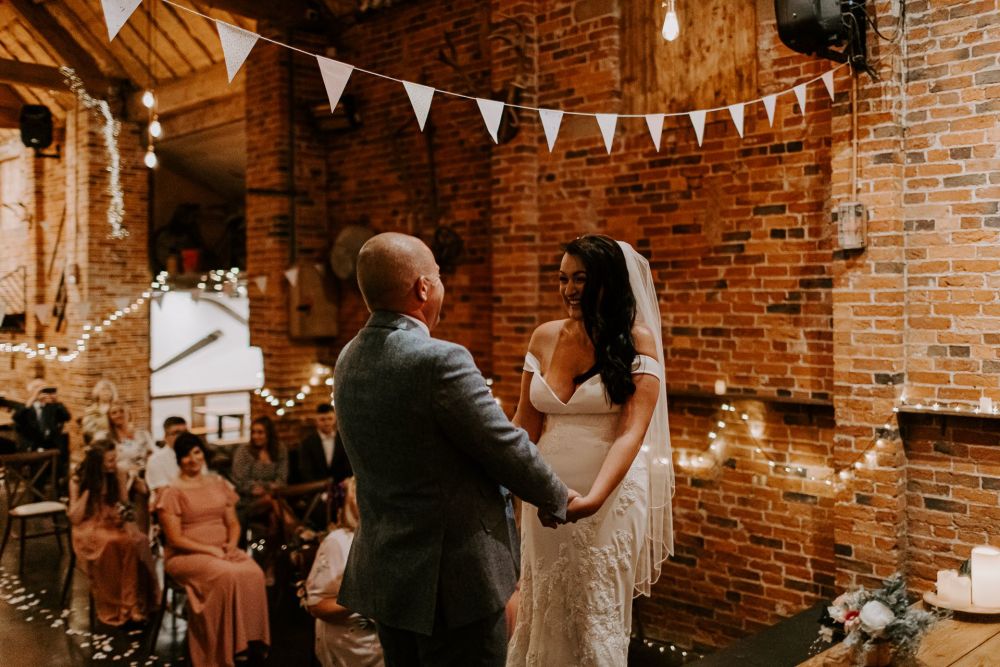 One of the major parts for you might be getting ready and therefore are wondering can I have my hair and makeup done for my wedding? As it stands at the moment only your hairdresser is permitted to come into your house. But due to the social distancing guidelines only allowing two households to be inside this meant I was unable to photograph any bridal prep whilst the hairdresser was present. So I would normally do all the small details: earrings, shoes, flowers. Which is why when it came to my couples portrait session I got all these details then, if you have a back garden then bridal prep and your photo's can take place this way.
The government still has not issued a road map for when your make up artist can start work again, but instead has listed them as part of the 4. Businesses and venues to remain closed, but don't get me started that they are allowing beard trimmings!
The social distancing measures state you can't have more than two households indoors, so getting ready with your girls will be really limited, it would be you and one other person, but bearing in mind if you have your hairdresser he/she can't come and do both of you under the current guidance.
Can we still have our wedding car?
Sarah and Simon were due to be getting ready at the wedding venue so didn't have any need for cars. But due Covid they had to get ready at home so needed them. Sarah, her mum and daughter got picked up by a baby blue VW Camper van (don't stress your beans, they are a household bubble). If you have a car booked you can check if they are Covid Secure and following the taxi company guidelines asking you to wear a mask as well as your driver and you may be asked to sit in certain places to allow for the 1 meter social distancing requirements.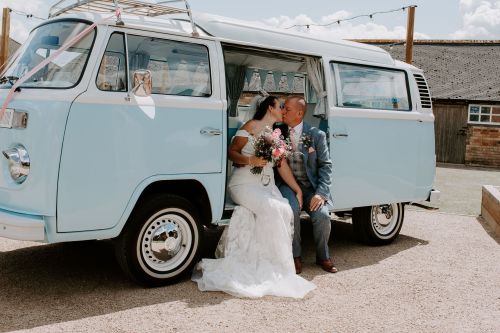 Under the current guidelines what are the changes to a wedding ceremony?
I am going to admit something here, I'm not a huge fan of big long ceremonies, I much prefer a personalised wedding, where the couple are making their own rules and not having to follow those of the Church. Rules which were stipulated in the 1800's and haven't moved to suit the modern couple!
Under the Government's guidance for small ceremonies and civil partnerships ceremonies have to be as short as possible. In the case of this wedding, this was done by; no readings, no singing, the rings had to be sanitised beforehand and the best man had to place them in the box on the table whilst we all moved 2 meters, there was a signing of the registrar, but the pen was sanitised.
Due to the space within Donington Park Farm the registrars were able to interview the couple separately, this may not be the case for everyone. All guests, including the witnesses, had to remain seated throughout the ceremony. I was unable to move from my spot to get those different perspectives of bride and groom, due to having to keep to the 2m social distance from the 2 registrars. Guests who were not from the same household, or in a household bubble (Sarah & Simon had provided the venue with a seating plan) had to sit 1m apart from each other and the venue organised the seating in a zig zag arrangement to help with social distancing. The aisle had to be made wider to allow Sarah and Simon to walk down at a social distance from each other.
Sarah's mum formed a social bubble with Sarah. Simon and their daughter as soon as it was announced by the Government, this was a real blessing as it meant she could walk her daughter down the aisle, whilst Sarah's bouquet had a locket holding a picture of her dad, so he was there with her too!
Each of us has our own personal story when it comes to this pandemic; how it's impacted us, physically and emotionally. In that moment of 'I now pronounce you husband and wife' I was crying. They had done it! They have braved it all, because they simply love each other and want to be married, it hit me like a train that this is July and this is my first wedding of the season!
What about group shots?
After the ceremony, due to the vast grounds of Donington Park Farm I had pre planned what I called 'bubble shots'; these were pre arranged timed shots which had the Bride, Groom, 3 other guests and myself in; forming the 6 people you are allowed to meet with outside under the social distancing guidelines. Everyone apart from the couple had to keep 1+ meter apart. This was all agreed with my couple on our zoom call prior to their day. Due to the fact I cannot shout guests names, fetch guests the location and bubble shot timings were issued to people prior to the day. I allowed 3-4 mins per shot and had agreed with my couple if guests didn't arrive at the allocated time the photograph wouldn't happen. Thankfully everyone was super organised.
Can I still have pictures at my wedding?
I did my research and worked hard in open communication with what the couple wanted and what we could do within the new guidelines and what the wedding venue and registrars would and could allow under their Covid Risk Assessment.
We had agreed to do the couple shots after the ceremony and I was determined after all my couple have been through, to make this part of their day feel amazing. Ensuring they had plenty of time to just breathe each other in and to acknowledge that throughout the struggles they have faced, the heartache, the upsets and frustrations, their love for each other is so strong and they have become husband and wife. My approach to my couples is to give them something to think about, say or do. But on this occasion all I had to do was set the scene and allow Sarah and Simon to simply embrace each other and drink in this precious moment. I have to say this felt so special and a privilege to be able to capture this for them. I felt so full of emotions that I remained silent for a large part of it.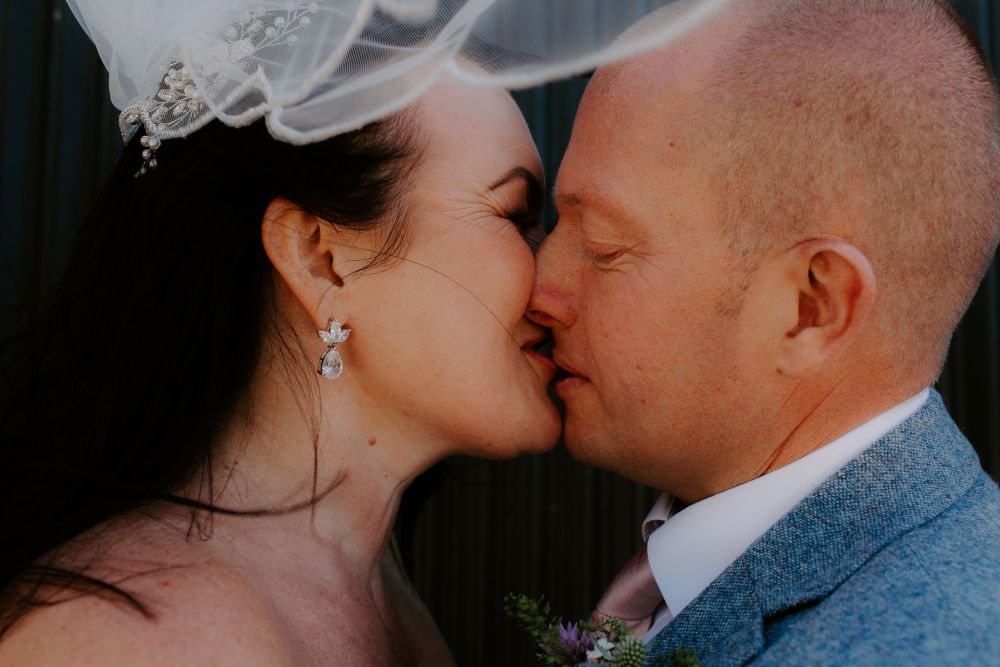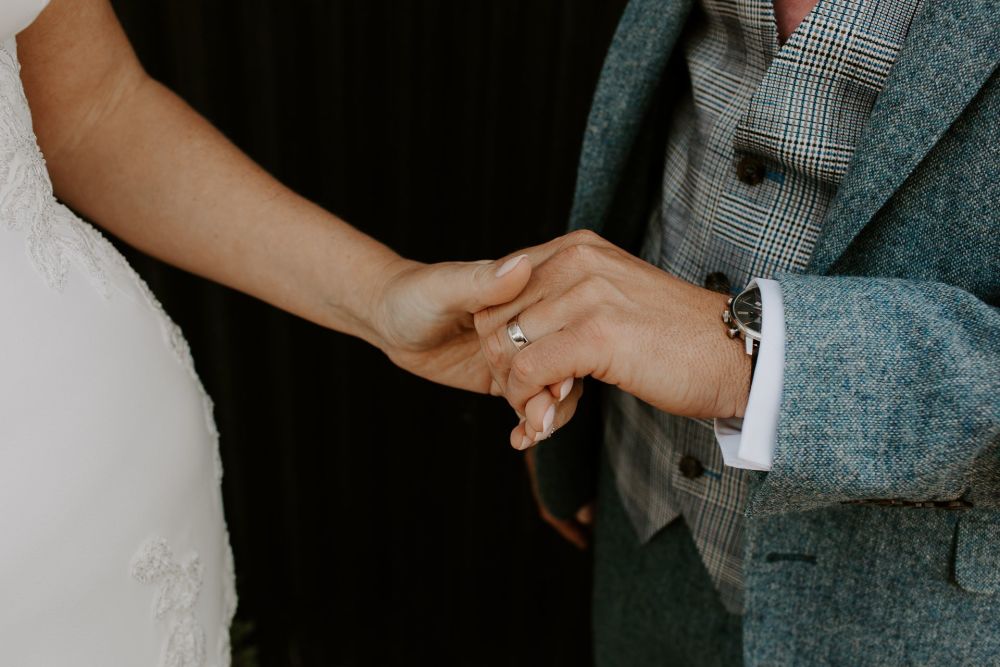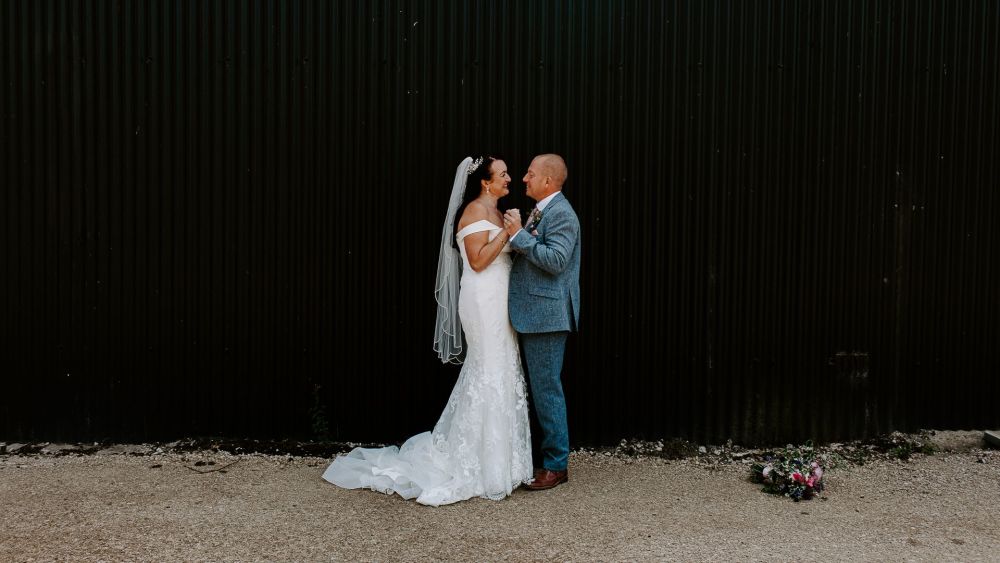 What about my wedding reception, can this go ahead?
The Government has recently altered guideance and you can now have 30 people at a reception, but they have stated this has to be a sit down meal and no evening/party, you can find their guidance here. My advice is to contact your wedding venue/place you plan to have your reception, as I know some venue's still can't afford to operate under these new measures.
At the time of this wedding only 6 people could remain for a sit down meal, so Donington Park Farm organised a table outside to allow for social distancing for those not in a household bubble and the couple stayed with their 6 to celebrate as I left for the day.
The great news is my couple have booked Donington Park Farm for their reception in December of this year for one hell of a party! They have split their day up with me and we did it so in December I can do bridal prep and I can capture the rest of their day and party hopefully without any social distancing.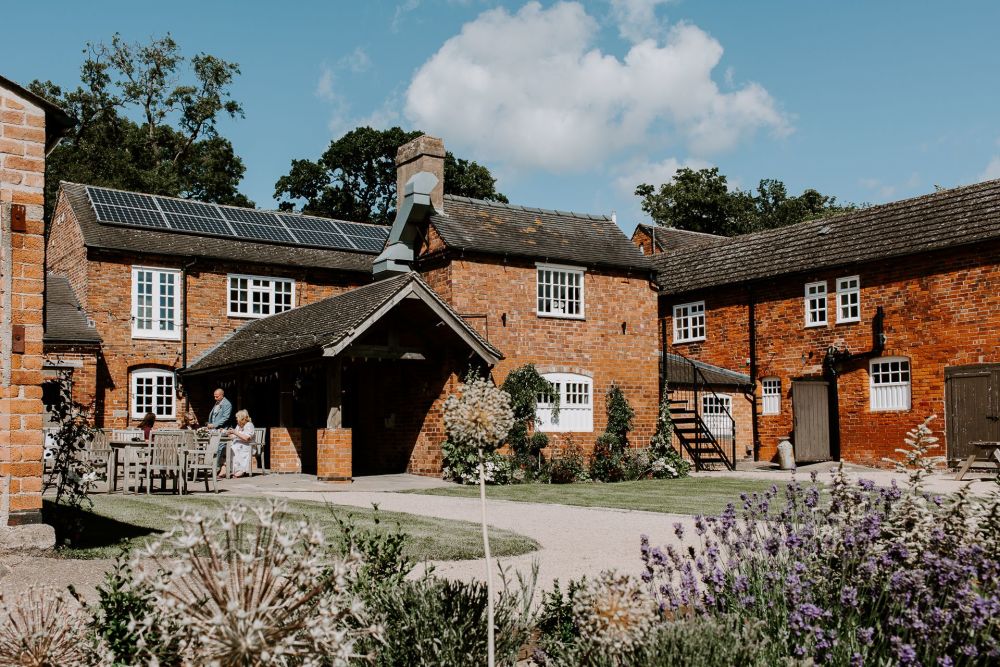 As a quick summary my advice for couples:
Speak to your registrars/vicar and ask what their restrictions are for you and your venue, each will be different and may not be able to accommodate the 30 people (including registrars/vicar/photographers etc

Speak to your wedding venue; what are their restrictions, do they have a Covid risk assessment you can have a copy of to see what they are doing to keep you, your guests and suppliers safe

Speak to your photographer in advance; be honest with them about what your expectations are and understand that all of this is new to us. We are figuring out what we can and can't do, but ultimately we need to stick to the guidelines, there will be photo's that are just not possible to do at the moment. Also see if you can split your time up if you are planning to have your reception at a later date.

If you are going ahead with your day provide your venue with a seating plan and in as much advance notice you can give them. They will need to work out all the logistics and once again be kind, we are all in this together

Breakdown each section of your day; bridal prep, getting to and from the venue, the ceremony, the reception, suppliers, wedding guests. Having read my full blog, figure out what can and cannot happen under the new guidance and if you're not sure ask your suppliers, they may still be understanding what this means for them too, but they will have some answers to your questions

Where you can prepare your guests; let them know what they can and can't do in advance so on the day your venue and other suppliers are not having to get involved

Under the guidelines you are permitted to celebrate with up to 6 people (you two are included in that number), check if this is something you can do on the venue's premises or you need to go to your back garden or another chosen location

Ultimately, you need to make the decision on what all this means for you. If you are prepared to scale it down and pause some parts of your wedding or are simple happy to ditch them, only you can make that decision to go ahead or not

If you are reading this as a wedding photographer my advice for you is:
Be prepared! Organise yourself so you have your timings sorted, you may have 30mins before the venue needs everyone off their premises.

Complete a Covid Risk Assessment and ask your couple to sign it so they know what to expect off you and how you will be adhering to the guidelines in order to keep them, their guests and you safe

Speak to the venue and ask for them to share their covid risk assessment, this will give you an overview of how they are going to run the ceremony and what restrictions and additional measure you will need to put in place

Speak to the registrar/vicar/celebrate prior to the day, once again ask them what new measures are going to be put in place. Once you have all of this information you can then speak to your couple and share your risk assessment and manage their expectations, for example, once I knew I wasn't able to move and where I would be in the ceremony room, one of the conversations I had with my couple was the perspective and reactions I was only able to get would be Sarah's. I wouldn't be able to see and capture Simon's at all!

If you are doing a few 'group shots' remember you can only do this with a max number of 6 people. The bride, groom and you will count as 3

Check with your insurance company what you are doing and take their advice

Get some PPE

Enjoy your couple sessions. Man it felt good, no scrap that, it felt full on amazing, to photograph my couple and let them breathe in the fact they have finally done it!

Most of all, give yourself a break, no of us have done this before, we are all figuring it out and it's ok to tell your couple that
Couples view:
What made you want to go ahead with your wedding under the lockdown restrictions?
We had been planning our big day for over two years, trying to have everything we had dreamed of but unfortunately life doesn't always go to plan. We decided that it was more important to us to become husband and wife than have the big wedding. Over the last 12 months I had lost my dad due to Ill health and in May we lost our good friend and usher Gary to COVID-19. It made us realise that time is so precious and we didn't want to wait any longer!
What helped you organise your day?
Having support from family and friends in our plans but also having a very accommodating venue, that took an equal financial loss to allow us to have our day. Donington Park Farmhouse Hotel was amazing. Unfortunately we couldn't have an evening reception on the day and we couldn't stay the night before due to government restrictions. So we had to arrange transportation to the venue, ' capital limousines' in Swadlincote were equally as fantastic at such short notice too (two weeks). The camper van was stunning!

What did you struggle with?
There were lots of hurdles to jump over or sort out from dress fittings to bridal cars. Due to not having an 100% confirmed date right up to two weeks before the wedding, we were updating suppliers every other day.
But the main struggle has to be deciding on our 24 guests, we have lots of close friends and family but everyone was so understanding and knew how much we wanted to get married.

On the day how did it feel?
It was a very emotional day. There were tears, sighs of relief but most of all love and plenty of laughter. A truly amazing day, more than we could have wished for. Perfect for us!

What advice would you give other couples reading this?
Don't delay your day, the two most important people are you two. Friends and family will understand and you can always have a party at a later date like us. Plus you get to wear your dress twice.
What would you do differently now you've done it?
Nothing, I'm so pleased that we've been able to have our special day. Becoming husband and wife to one another is a beautiful gift and more important than the big event.
We can't thank everyone involved enough 💓
If you have any questions you can email me and I will happily answer them you
Love
Becky x